Prestwick Airport Security
Getting through security at Prestwick Airport needn't be as daunting as it seems to some. We've created this page to answer any most of the questions people have when it comes to getting through security at the airport and we're starting with "How long should I give myself to get through the airport?"
You want to allow yourself sufficient time to get checked in if you didn't do it online, drop off your bags if you have checked luggage, get through security and make it to your gate, as well as spend a little time in Duty-Free or grabbing a bite to eat of course, so allow yourself the following:
International flights: 3 hrs
European flights: 2 hrs
Domestic flights: 90 minutes
Prestwick Airport Hand Luggage – What you can and can't pack
"What can I actually pack in my hand luggage?" Do you find yourself asking these questions? You're not the only one! Below we answer these and 4 other commonly asked questions about packing hand luggage.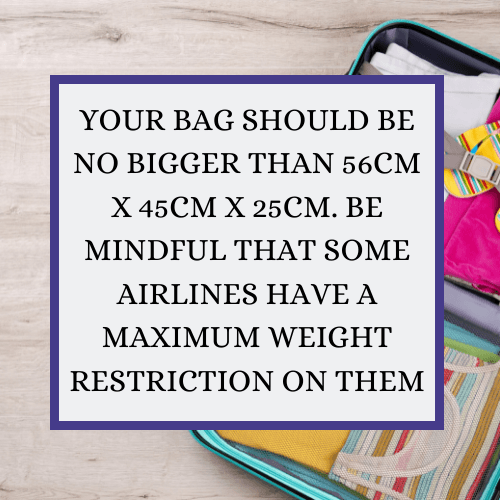 Prestwick Liquid Allowance:
Essential medicines in liquid form sufficient and essential for the flight (e.g. diabetic kit), as long as it is verified as authentic.
Baby milk and liquid baby food (the contents of each bottle or jar must be tasted by the accompanying passenger).
Please note: Other bags, such as handbags, may be carried within the single item of cabin baggage. However, depending on the airline, it may be required to be placed within your hand luggage when boarding the plane.
Screening
All items carried by passengers will be x-ray screened, including.
Pushchairs, walking aids and wheelchairs.
Laptops and other large electrical items (e.g. a large hairdryer) have to be removed from cabin baggage and screened separately. (A laptop bag will be regarded as your one item that is allowed in the cabin)
Before Security
All shops and catering outlets are open to all passengers. Hand baggage is now allowed BUT any liquids and gels must be packed into your hold luggage for check-in. Any other purchases must fit into your hand baggage.
After Security
All shops and catering outlets are open to all passengers. Passengers can take all items purchased in the departures lounge into the aircraft cabin, unless you are travelling to the USA. For more information, please visit www.tsa.gov.
Prestwick Airport Security - Prohibited Items
In addition to the restrictions on what is allowed in hand luggage, there are a number of items that must not be taken on board an aircraft, either as hand luggage or in the hold. Please do not pack the following anywhere in your carry on or check in luggage:
| | |
| --- | --- |
| Flammable liquids and solids | Oxidisers |
| Organic peroxides | Gas cylinders |
| Infectious substances | Wet car cell batteries |
| Instruments containing magnets | Instruments containing mercury |
| Magnetrons | Fireworks |
| Non-safety matches, fire lighters, lighter fuel | Paints, thinners |
| Poisons, arsenic, cyanide, weedkiller | Acids, corrosives, alkalis, caustic soda |
| Creosote, quicklime, oiled paper | Radioactive materials |